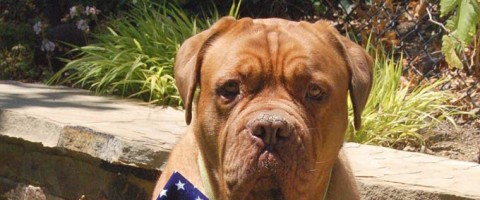 2 Responses to "Elgin's 5th birthday (7)"
cookiemonster Says:
January 11th, 2013 at 11:09 am

We LOVE this photo!! Our own Cookie hates hats but tolerates them with odd faces too……

Thanks for being on Tripawds…….Elgin's story certainly inspired us and gave us hope. If we hadn't read about you guys before going through with our surgery, we wouldn't have been as determined…..

Thank you, thank you!!

elginsfamily Says:
January 11th, 2013 at 12:04 pm

Glad to hear we were able to reassure you somewhat. Cancer sucks. We are pulling for Cookie and know that with your love and care, there will be good results. Keep us posted!
Leave a Reply
You must be logged in to post a comment.