Wow, that happened fast. UC Davis called this morning to say that I could bring him tomorrow morning for the initial consult, then they could do the amputation in the afternoon. Depending on how he recovers, we can pick him up Wednesday or Thursday. I am so glad to have this finally scheduled.  He's been limping around, dangling it and generally looking miserable.  Last night we ordered ababy gate for the stairs, new pad for his crate, and hallway runners so he won't slip on the hardwood floors. Today we orderd a ramp for him to go up into the back of the vehicle, and got a nice, big, washable bed to put in the room wherever we are so he can be with us. we discovered over the past two days that we need to put a sign on our front door so people won't ring the doorbell or knock.. we have a very social neighborhood and everyone comes and goes frequently. Elgin is the perpetual guard dog and is ALWAYS there when someone comes over. These mastiff breeds are so stoic with their pain…  when someone is at the door, he gets all bouncy and agitated, not showing the immense pain he's going through until the person is either gone or sits down to visit with us.
While I am very nervous about putting Elgin through all of this, I am confident he will be more comfortable after the limb is gone.
I gave him a bath and trimmed his toenails tonight.  He's very handsome.  We showed the boys pictures of dogs just after they'd had a limb amputated, hoping to lessen the shock of how awful it's going to look.  We stressed how imporant it is to have positive thoughts. At 19 and 13 they get it. I guess they're not exactly boys anymore, but this is a big deal and we feel everyone should be as prepared as possible.
I tried to take a few pictures of the leg with the tumor. It's just above the hock on his left back leg.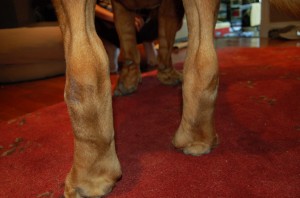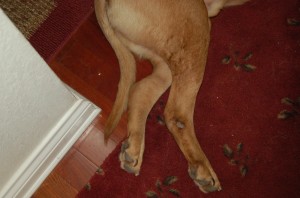 We appreciate everyone who is pulling for Elgin.