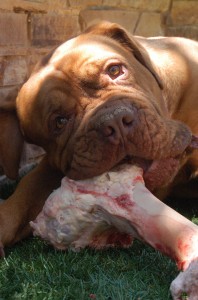 Welcome to Elgin's Journey.
Elgin was born November 15, 2007. We have enjoyed his larger-than-life presence in our home since he was 4 months old.  Elgin's personality matched his health; vigorous and strong.  He made friends wherever he went, and quickly became well-known in our neighborhood. Twice a week Elgin and a couple of other dogs (all brown colored) who live on our street, would go for a walk around the neighborhood. It was the "Browndog Walk".
We had always had boxers, and while we love that breed, we quickly found that the Dogue de Bordeaux is the most perfect breed for our family.  A stout guardian, yet really mello and devoted to family. No worries about this one chewing, digging, barking, or being a nuisance…he would rather sleep.
This summer, when we returned from a week-long vacation, Elgin greeted us with a noticeable limp in his back left leg. As I was leaving for Sweden for two weeks with our younger son the next day, I unhappily left this situation up to my husband to handle. When we reached Sweden and the timezones were conducive to a conversation, I was able to reach my husband to check in.
What he told me made my heart drop into my shoes. The limp hadn't abated, and after a visit to the vet for x-rays, it was discovered that Elgin had a tumor in his tibia, most likely it was osteosarcoma. A consult with a surgeon provided us with a second, concurring opinion. Prognosis could be as short as a couple of months, or as long as a year.  We decided that we didn't want to traumatize Elgin with amputation and chemotherapy… we imagined it would be a terrible way to spend the last months of your life recovering from this. We planned on providing pain management meds and letting Elgin tell us when he was ready to go.
We decided to take him to UC Davis, a two-hour drive, to see if anything else that we didn't know about could be done.  Their diagnosis was the same, and we were given several treatment options: Amputation and Chemo (median survival time: 1 year), Palliative treatment of radiation and chemo (median survival time: 4-6 months) and pain meds. We decided to go the palliative route.
So home we came with the "big guns" of pain medicine.  So far the Rimadyl was working well, but we were told that this cancer is incredibly painful… like getting hit in the leg with a baseball bat every morning, as the bone slowly explodes from the inside out. We began him on a regimen of Bisphosphonate and Tramadol.  Osteosarcoma is a very aggressive form of bone cancer, and also metastacizes at a very rapid rate to the lungs. Elgin's lungs appeared clear on all ex-rays and the lymph nodes they aspirated were clear as well.  In that aspect, his health was superb. It's not fair.  He's not even five years old.
The day after the visit to UC Davis, Elgin began limping more pronouncedly, even through all those pain meds! We called UC Davis and asked about upping his meds, and scheduling him for radiation. The additional dose of Tramadol we gave him seemed to help somewhat, but not as much as we'd hoped.  Both my husband and I spent countless hours on the computer, researching about amputation, as we were beginning to re-think our decision. Better to relieve Elgin's pain from the cancer, and maybe his last days will be happier.  That way, the risk of a pathalogic fracture at the site of the cancer would be eliminated also (the chance of such a traumatic event had terrified me since I'd heard it was a possibility). The other factors that made me reconsider, were thinking of Elgin, all hopped up on meds and in pain for the next few months, and also the challenge of monitoring his every movement, so that if a squirrel or a neighbor's dog ran by our yard, he wouldn't try to chase it and fracture the leg.
We had a family meeting and both of our sons were in favor of amputation, but my husband is still on the fence.
At this point in time we are trying to move forward to schedule his amputation, but we are having difficulties getting the vet at UC Davis to call us back (we assumed she was the one who would work with us to schedule this, but we must have misunderstood).  We will try on Monday, to reach the surgery dept ourselves and get this scheduled ASAP.