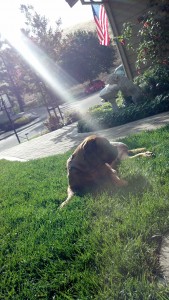 Sept 5, 2012
Elgin is progressing nicely.  His razor burn is looking much better, and he's getting around quite well!  I still sleep on the couch to make sure he doesn't climb up there in the night, and also because I'm worried he'll fall over or get stuck behind a chair or something.  I will soon go back to my own bed, after I'm sure he knows completely how to manage himself.  We bought a pen for him and I set that up in the living room yesterday and put his donut collar on so he wouldn't lick his incision (I've caught him at it a few times now), and actually got in a few hours of work!
This morning, Elgin went to the front door and nudged his collar and leash… a clear sign he wanted to "Browndog". (that's what we call it when the 3 brown dogs on our street get together for their twice-weekly walk) Obviously he isn't up to that yet, in fact, he's not even up to having visitors yet, because he might get too excited and bouncy. So I compromised and let him lay on the front lawn.  He seemed perfectly content, and even managed to lay right in a small patch of sunlight.
Next Tuesday he gets his stitches out on 9/11, and also will start chemo that day.
Now, time to get back to work.